I want to tell you so many things. It has been a scary and exciting and lovely couple of days. I'm too tired to type out all the details, so for now, let's just welcome…
*really fast and suspenseful drumroll please*
Elsie Jane!!!
(That's EJ of the EO, I just realized…ha.) 
Yes. Elsie Jane is here and she's just…pure…goodness.  
But…
does she look a little suspicious to you?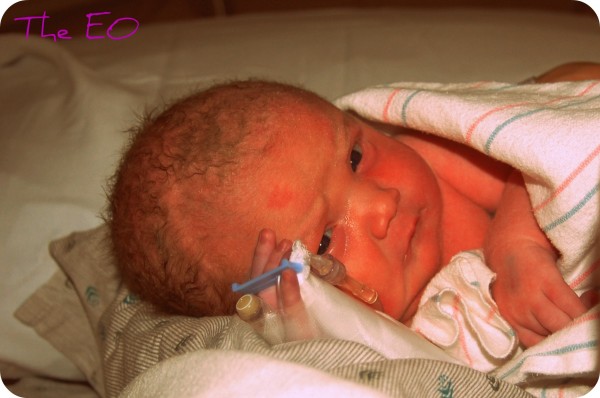 That's because she's had a rough night and day, trying to figure out how to breathe. She's doing so much better now though–breathing more peacefully on her own and slowly getting well enough to leave the special care nursery so we can be together all the time. I can't wait. She may even be able to come to stay in my room with me tonight or tomorrow morning!
Elsie also got to meet her brothers today. They touched her fingers and toes and beamed at her while she slept. It was one of the most beautiful things I've ever seen…
Thank you to all of you who heard we were having a rough time and sent your thoughts and prayers our way. They are felt and appreciated more than words can say.
Elsie, we're already totally crazy about you. Thank you for being you.
More soon…