I'm whelmed over.
On a whim I had the idea for Just Write and I quickly typed up a post inviting people to join me in free writing their moments and then WOW, did you ever show up, friends.
I thank you so muchly.  Let's keep doing this, huh? I mean, your posts? They're fantastic, and even if it's going to take me all week to get through them, I'm going to read them all. There are some truly gifted writers out there! And together we're discovering that if we get ourselves out of the way (thinking too much about what or how to say things), our words find freedom. THEN, it gets even better because as we write the memories of moments in our lives, the true beauty of every kind of moment shows up. I just love it.
If you missed it this week, come back next week and join us. I wonder what things will happen in your lives this week that seem small  but then when written, are not. All I know is that it's going to be GOOD. Again.
:::
Recently I mentioned a Redbook article (@redbookmag on Twitter) in which I'm featured along with Ellie and Corinne. You can read it online now!
Thank you to each of you who have let me know that you appreciated the article. I'm truly honored to play a part in helping women struggling with addiction, whatever form that takes. I absolutely love the way that telling our truths helps people connect and then reach out. You don't want to miss the latest post on Crying Out Now. It's a truly amazing example of how this works. It is an email (shared with permission) that was sent to Ellie after the writer read the article in Redbook. I'm just astounded by the gifts of grace we can find in sharing our stories.
:::
I want to tell you all about how Elsie is doing better (except for that GAS that keeps her waking up a lot) (BUH) and how Miles is doing at school and how Asher is doing without him. But I need to go get back to them instead. There's just so little time these days, and that's okay.
I'll leave you with some pictures of them and then tell you more just as soon as I can…
She's seriously big, friends.
Like a 3 month old stuck in a 6 month old body.
We like to joke that that her size is because of the steroids
in the womb when she was trying to come too early.
Um…yeah. I love how this hat goes with her cheeks and her Daddy.We are so fashionable. (Dear Ellie's Mom, do you recognize this hat? WE LOVE IT. THANK YOU.)
and oh my heart, he read the whole page to her…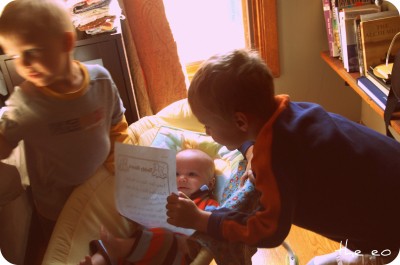 The End.