Miles with apple trees and apple picker
I don't know how to talk to them about God. I get worried that I should be saying more than I am.
I want to tell them all about the way that I've come to know He's there and He loves me and I know they can't fully understand an invisible Being that made them up and follows them around quite yet or ever.
Mystery.
I mean, that's what it sounds like to them. I know because of the confused questions they ask and yet mystery is exactly where He is, in the best possible way. He is story on a breath and inside all quiet things, good or bad all working itself out to matter and mean something.
We are all just kids trying to make sense of things.
More and more I realize that not knowing things is how we stay open, less full of ourselves and the way we like to complicate things.There is freedom in accepting that we're not to have all the answers in the ways we try to find them.
Religion-ize things. Strip Him of mystery. Try to out-do Him.
Here is God, I say to them, I hope, when we're loving each other just for being us or saving each other from feeling unsafe. That's when I try to put words to Him. He is this, I say. One day that will make perfect heart-gut sense to them.
I hope they come to feel Him in their bones and souls. I believe they will because He is there.
Here is God is not, I hope, what I speak in direct result of something they DO, because the only thing I know is that it All has nothing to do with that. What you do or don't do. There is nothing you can do or not do to make unconditional love happen or it wouldn't fit its definition.
Free. God love is for free. Totally. No strings.
But we're all just kids so we keep trying to Do to figure out Mystery.
There is so much freedom in sitting down and saying I'm all emptied out and so tired and impatient and broken, I just have so much nothing to give.
Anything good we're able to rise up and do is not of us and then we've met God. The good one who is moving our hands and mouths and fingertips. That's what I think.
So we're good amidst our trying and failings despite ourselves and that is grace. I want my children to know God that way and sometimes I'm nervous that I'm just failing at that too because I carry so much history of thinking it's about doing and being so certain I MUST be doing it wrong. And then something happens, like Miles writing down a prayer for the first time ever and he asks me how to spell things out as he thanks…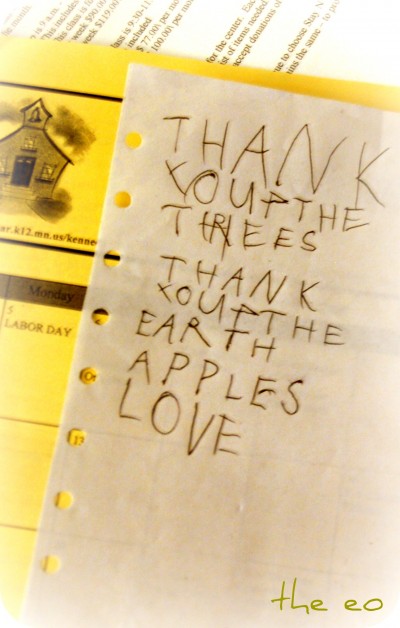 "Thank you for (backwards 4)  the trees. Thank you for (backwards 4) the earth. Apples. Love."
Then I think, Oh yes there it is. He has seen God in God things. Because what I don't know how to say we just try to live and then God speaks with His very own things. Of course.