We went to the farm yesterday. It was the most perfectly beautiful day and we got cotton candy and I ate most of it. Everything felt good about yesterday, but especially how it was so freeing to be able to take Elsie somewhere for the day now that she's doing better. These are the kinds of things I missed a lot in the last four months.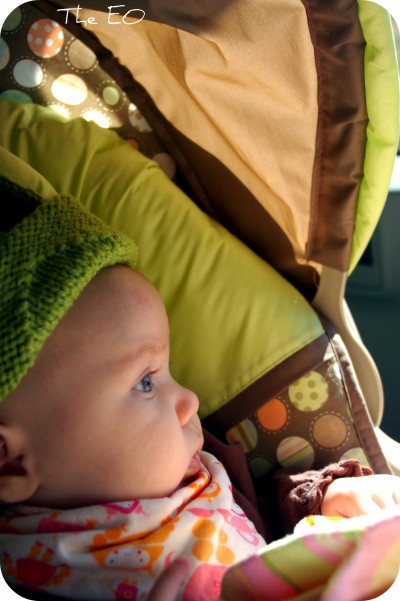 You know, going places without loads and loads of crying. I'm so so grateful.
We saw baby chicks and roosters and cows and a pumpkin being catapulted through the air via a trebuchet.
Before Elsie was born we would tell people what we thought her name might be and they'd say "Oh! Like Elsie the cow!" and I would say "OR! Like Elsie my Great Aunt!"   (In case you don't know, Elsie is the name of a cartoon cow, the spokescow for the Borden Dairy Company.)
This here Elsie is the spokesbaby for cuteness.
Now if I could just get her to sleep like a cow….or wait…no, I don't need her to sleep standing up. They sleep lying down sometimes too though, don't they? Maybe they sleep really well when they do? If so, then yes. I want my baby to sleep like a cow.
{I have many many adorable pics of Miles and Asher too but they are on hold for Tuesday's Just Write. I hope you'll write with me on that day. You know, if you'd like.}
{cute lil farm-hand bandana bib courtesy of Amelia Sprout. Thank you, friend.}