Asher – (whining) (a lot) Mommy, my finger hurts soooo much. (holding up pointer finger)
Me – Oh. What happened?
Asher – (still whining) (just keep imagine him whining through this whole post) I don't knooooow.
Me – Oh, I don't see anything?
Asher – (looking closely) I don't know but I need five band-aids.
Me – Five? Well. Five won't fit.
Asher – I need five.
Me – How about 2?
Asher – Four
Me – Four and a half
Asher – No. It doesn't hurt half. It hurts whole.
Me – okay, Asher. You're only getting one band-aid. There's no blood or anything.
Asher – oooooh kaaaaay.
We get the band-aid and I go to put it on and Asher is holding up his middle finger.
Me – Sweetie, I thought it was this finger? (pointing at pointer finger with my pointer finger)
Asher – Oh. Yeah. Right.
We put the band-aid on. Asher skips away.
Within about thirty seconds, I come into the living room to discover that Elsie is wearing the band-aid on her arm.
Repeat nonsensical conversations and actions about 87 times. Add poop, and there went the day.
But don't forget to add in this kind of thing:
Me – Asher, what do you miss about Daddy when he's away for work? (He's been really really sad when Daddy is gone.)
Asher – His heart.
or
Asher – Mommy, I need that vitamin that strongers your bones.
or Miles
(he jumps down from a chair and his toe makes a light crack sound, like cracking a knuckle)
Miles- Mommy, did you hear that?
Me – Yes, did it hurt?
Miles – No. I just cracked up my toe just a little bit.
Do you get it?
Me – Yeah. It just cracked without hurting.
Miles – No. Do you get it? The joke?
Me – No. I don't think I do.
Miles. Get it? I made my toe laugh!
Repeat these hilarious and heart-melting conversations 1,388 times a day and add some noggin-smelling and surprise  fly-by sloppy kisses to your leg. Add poop, and there went the day.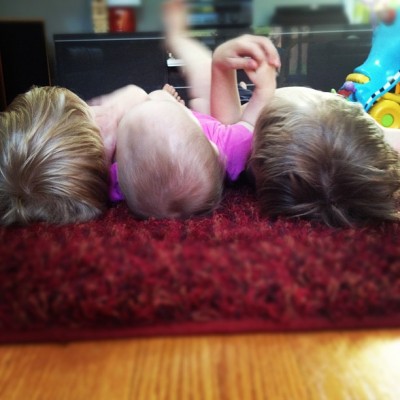 P.S. Speaking of motherhood. If you missed it earlier this week, I told you about a lovely book called Use Your Words: A Writing Guide for Mothers and a writing contest using a prompt from the book. You can go back to check it out on Monday's post. Write away, Mama. Write away.