My love affair with Kate Hopper's first book, Use Your Words: A Writing Guide for Mothers is clear–I mention it often. It is a book for every writing mother to carry with her through the years, a resource filled with valuable advice and encouragement. Now, Kate has released her memoir Ready for Air, and it is a beautiful example of what a mother can do when she "uses her words". 
Kate's daughter was born prematurely and needed to stay in the NICU, battling for life. So many families have experienced this painful journey, waiting and hoping, fearing and waiting. Kate writes beautifully, with humor and candor, of her own painful struggle to accept life's terms when it came to the wait; to motherhood's harsh introduction.
One of the gifts that Kate's book brings is an opportunity for every NICU to carry this book, to give to parents who are sitting in the struggle, waiting, watching the monitors, carefully reaching a hand through the hole in the isolette to give their babies the gift of touch that comes less often than they long for, and waiting some more.
This is a true story, one that far too many people know, but few have written about, and it will resonate beyond parents of premature babies to every parent who knows what it's like to watch and wait as a fragile life of their own unfolds perilously.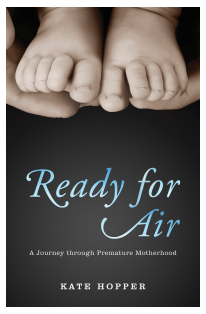 NICU Book Giveaway
Do you have a NICU in mind that you think would benefit from a free copy of Ready for Air? Please comment on Kate's blog and include the name and address of the hospital, specifying whether it goes to the NICU or family resource center, etc. At the end of the online book tour, Kate will randomly pick 15 hospitals to receive signed copies of Ready for Air.
There is no better gift than a ME, TOO. I hope every NICU ends up with this book as a resource. 
:::::
You can find Ready for Air for yourself or someone you love
"As long as I have words, I'll be strong enough." – Kate Hopper