Ready? Set….WRITE ALL THE THINGS!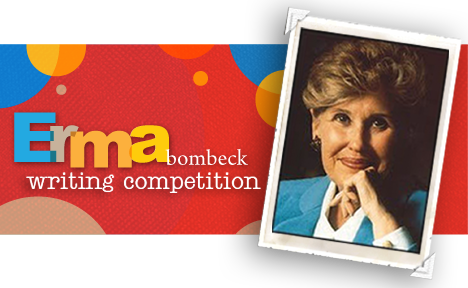 Erma Bombeck's annual contest opens January 4th, so get your wheels turning and start writing your personal humor or human interest essay! The winner receives $500 and admission to the annual Erma Bombeck writer's workshop!
__________
Writer's Digest – you can submit anything from poetry to fiction to horror to memoir and MORE. Writer's Digest is also rich with information for writers, a forum, blog, and writing prompts.
__________
Creative Non-Fiction, True Stories, Well Told offers online classes as well as contests and submissions.
"Essays must be vivid and dramatic; they should combine a strong and compelling narrative with a significant element of research or information, and reach for some universal or deeper meaning in personal experiences. We're looking for well-written prose, rich with detail and a distinctive voice."
____________
The Sub It Club does a monthly roundup of all the contests to enter that month. Such a great resource!
Follow their Writing Contests Pinterest Board for up-to-date contest information!
__________
Pitch Wars by Brenda Drake —
Pitch Wars is a contest where published/agented authors, editors, or interns choose one writer each, read their entire manuscript, and offer suggestions to shine it up for agents. The mentors also critique the writer's pitch to get it ready for the agent round. Mentors also pick two alternates each in case their writer drops out of the contest.
Pitch Madness by Brenda Drake –Pitch Madness is a contest held every March and September where writers enter for a chance to win requests from the participating agents.
__________
Good Housekeeping partnered with She Books to bring this memoir contest for mothers. You have until December 15, so hurry! $2000!
___________
(click the information above to head to the link for the poetry contest)
__________
Head on over to PEN America for contests/awards that can win you some truly respectable cha-ching…and clout.
___________
You'll find an extensive list of upcoming contests/awards at FreelanceWriting.com
___________
The Secret Agent and Baker's Dozen contests at Miss Snark's –these contests are for fiction writers with finished manuscripts looking for agents to get their eyes on the words!
bonus list: on-going submissions (to be featured)–
Great Moments In Parenting — submit your honest and/or hilarious essays on parenting.
Full Grown People –submit your essays about what it means to be a grown up.
Shebooks  –personal essays by women, for women
mamalode –personal essays on motherhood
Literary Mama –essays on motherhood –Short fiction, poetry, creative nonfiction, profiles and reviews
Brain-Child Magazine –the largest literary magazine for mothers wants your essays
under the gum tree –creative non-fiction essays for print
The Huffington Post –there are several blog categories to consider at HuffPo. It's not at all a bad place for a writer to be seen, but prepare yourself for the comment reaction should you get featured there. Always remember, supportive and positive people are less likely to reply. Sad, but true. They're still out there! I've learned that the best place to submit is to: blogteam@huffingtonpost.com
Brevity – Brevity is an online magazine that features short nonfiction essays (750 words or less) and pays you $45 if yours is chosen.
What am I missing? Feel free to add more spaces and places for submissions and contests, right here in the comments!