I've been using Picnik to edit my photos for years. So when I got the message that Picnik would be closing, I was worried that I'd never edit another photo because I am completely incapable of using Photoshop haven't learned how to use Photoshop yet.
I get asked quite often how I take my pictures; what camera I use (Nikon D60) and how I edit. I have been giving Nikon and Picnik all the credit for the way my pictures look. Now I'm going to be giving credit to PicMonkey. Thanks to She Posts, I learned about this new site and in my humble opinion, it works even more smoothly than Picnik. (Aside from not saving your photos right on the site, but I'm okay with that because they're already saved to my computer. And it's most likely why you don't have to register or sign in or create an account to use PicMonkey, which I think is awesome.)
PicMonkey allows you to crop, rotate, do basic edits with sharpening and color contrast and lighting, change picture size, add text, add effects and overlays and add frames. I'm sure there's something else I'm missing, but those are the basics, which do not leave out anything that we could once do on Picnik.
:::::
We went on a hike yesterday at the state park near us so we had some great photo ops. Then I came home and used PicMonkey for the very first time. I wanted to post about this because I'm sure there are a lot of people out there wondering what they can use after Picnik is officially closed as of April 19th. (By the way, this is not a sponsored post. I just like helping.)
Photo editing includes: Crop, Exposure darkening and Lomo Effect via PicMonkey
As an aside, I should mention that when I first opened the PicMonkey home page, I was a bit confused as to what to do. There are some stock photos on the page and it doesn't say anything that lets you know that clicking on the pictures is how you get to the page that allows you to upload your own. When you run your cursor over the picture of say, the flower, it says "edit this photo". I was all, I don't want to edit the photo of the flower what-the-huh? But I clicked it and learned that when you go to the next page, you're able to upload your own photo and it replaces the picture of the flower, for example. Then you can edit your photo in much the same ways that you could with Picnik complete with adding effects.
Photo editing includes Crop, Film Grain and Focal Zoom via PicMonkey
Look! It's the entire family in ONE photo! With all the typical someone-not-looking-or-making-a-weird-face charm! In my defense…or my hair's defense…it was awfully windy out there.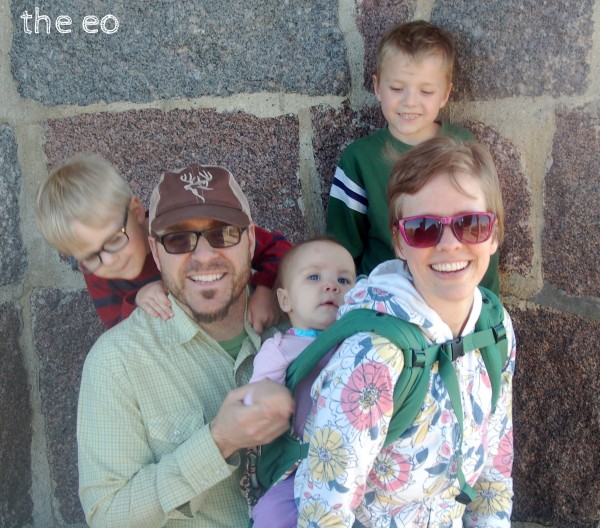 Photo editing of family pics: Cropped, Exposure Darkening
I was just staring at these photos and I was thinking, WOW, we have three kids! And one of them is female! It continues to blow my mind. Speaking of our female, thank you for your encouraging comments and emails after my last post about my worries about Elsie and her development. I'm feeling better and worrying less. We'll have more thorough testing done starting next week. Waiting is always hard, but she's okay, you know? She's happy and healthy and here. And she's also really stinking cute.
Photo taken with Instagram via iPhone with editing to exposure via PicMonkey
P.S. Another thing I'm asked quite often is how to put the watermark on photos (a watermark is the words, like "the eo"). This is done on PicMonkey as well. On the editing page, click the "P" on the left side, type in your text in the text box, choose a font from under the text box and wham-o, it appears on your photo. You can then drag it to where you want it and change the size by clicking on the box around it at a corner and sliding the cursor. (To get the box to go away, you just click outside the picture.)
Herein ends my sort of kind of semi-tutorial on free photo editing.  You're welcome.