My Facebook status,
"It's not that I'm more thankful than other people for my kids, it's just that Asher has had this journey with hydrocephalus & we watch him so closely and every birthday that he has pretty much has me weeping with gratitude for his life. The Ash Man, The Noggin, the totally hilarious Asher Michael is FIVE today."
Yesterday he would touch his forehead and say ouch ouch ouch. A little pocket of panic always rises up from my gut to my chest when he does something like that. It's probably the heat, the way humidity and barometric pressure play games with someone with head pressure issues like hydrocephalus. But I always watch closely for anything more and then I hope hope hope that it isn't a shunt malfunction. He's okay. He's five years old today and he's okay. He's more than okay. He's Asher.
"Mommy, look! I put on your eyelash stuff so I'd have angry eyebrows!"
The A Man is pretty much convinced that the Chrysler Town and Country that a nice man named Chuck from Fury Motors in the Twin Cities dropped off on Friday is ours to keep. No matter how many times I explain that I write about things on the Internet and sometimes I get to try these things out for fun and then give them back, he believes this blue van will live here forever.
our real life van is actually silver and very dirty
It does match our house and it IS really really great. Seriously, you guys. All the bells and whistles (and buttons and cup holders) are in this Limited Edition and all the boys in my family are thrilled, as am I. (Elsie is not terribly concerned, but she does love that there's an AC vent above her head in the back, to blow her hair and make her laugh.) I love that the doors open on their own and that it has a bazillion satellite radio stations. And I'm not going to lie, I love that the DVD players (2!) come down from the ceiling. We have a portable DVD player that the boys consistently mess with while we're on road trips. Enough said.
Anyway, Asher asks if we can get in "the new van" about every five minutes and I say yes a lot. We just go. We don't even have a plan, we just feel like we're on a little vacation. So now we're thinking of actually going on one, in honor of Asher's fifth trip around the sun and just for funsies. This could be a terribly brave birthday adventure, or a totally insane idea since Elsie loses her effing mind in the car seat Elsie doesn't really travel all that well.
No matter what, we're doing it together and you better believe I'm grateful for Together.
I'll keep you posted. If we survive.
{Sing a little Happy Birthday tune for my Noggin boy, huh?}
{This just in! We're leaving tomorrow morning for Edgewater Resort and Waterpark in Duluth by Lake Superior. It's a long drive. BRING IT ON. We're so excited!}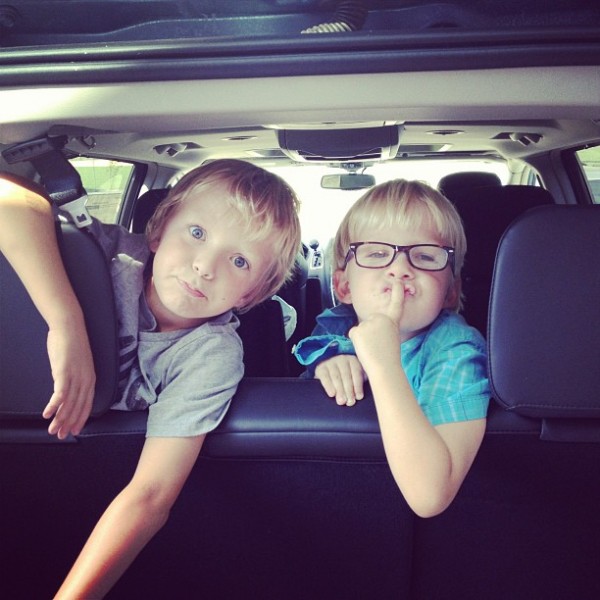 {I was given a Town & Country by Chrysler to drive for one week for the purpose of review. This post is part of a Chrysler sponsorship. More than that, it's also a simple story of a birthday and a summer road trip. To Be Continued.}